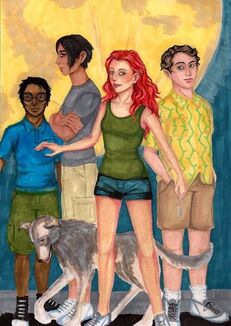 Welcome to The Virals Wiki!
Virals is a novel series for young adults and fans of the hit TV show Bones written by American Forensic Anthropologist and crime writer Kathy Reichs, and her son Brendan Reichs. The Virals series, which contains elements of mystery, crime, science fiction, a hint of romance, and fantasy, takes place in Charleston, South Carolina, and it's nearby islands. It follows the adventures of a teenaged girl named Tory Brennan (who is also the grand-niece of Temperance Brennan), and her friends Benjamin Blue, Hiram Stolowitski, Shelton Devers, and a wolf dog named Cooper. Here, you will be able to find everything related to the Virals series. Well...almost everything. We're a very small site at the moment and are lacking numerous pages, not to mention it's dire need of some updates. Any help with the wiki would be much appreciated. Enjoy the site!
Characters
The Virals
Other Characters
Locations
Who is your favorite Viral?
Which Virals Book was your favorite?
What is your favrotie Virals eSpecial?
Ad blocker interference detected!
Wikia is a free-to-use site that makes money from advertising. We have a modified experience for viewers using ad blockers

Wikia is not accessible if you've made further modifications. Remove the custom ad blocker rule(s) and the page will load as expected.